Research and Publications
Whilst a practitioner across all aspects of drama, Pamela has particular expertise and interest in process drama.  She researches and writes on the subject and also produces practical drama resources for teachers.
Current Research Interests
Deconstructing the processes of process drama
The relationship between process drama and emergent neuroscientific research
Drama for learning and creativity across the curriculum
International Collaboration
Since their meeting when studying with the incomparable Dorothy Heathcote at the University of Newcastle upon Tyne, England, Pamela has had a close, enduring and highly successful research and writing partnership with Brian Heap, Senior Lecturer in Drama, Philip Sherlock Centre for Creative Arts, University of the West Indies, Jamaica. They are internationally recognised for their work on process drama and regularly share their practice and research as conference workshop leaders and presenters and as writers.
They are the authors of the internationally best-selling Planning Process Drama; which is translated into Finnish and Arabic.  The updated and expanded second edition, Planning Process Drama: enriching teaching and learning, is out now.
Brian and Pamela's new book focusses on 'planning in process' as a drama unfolds. Titled Putting Process Drama into Action: the Dynamics of Practice,  it was published by Routledge in June, 2017.
At present, in addition to her on-going research and writing partnership with Brian Heap, Pamela is also involved with several other international activities, including:
Australia, Germany, USA, UK
Pamela is part of an international research collaboration exploring how drama teachers might renew their creative and pedagogical capacities in collaborative partnership with international researchers.
Palestine
Pamela has a firm commitment to the drama teachers of Palestine through her support and work with The Qattan Foundation for Educational  Research and Development based in Ramallah.
USA
Pamela is developing links with the University of South Carolina.
Selected Presentations and Publications include:
2016     Paper: Drama and Fuzzy Thinking: Celebrating maybe. Celebrating uncertainty. New York University
International Drama in Education Forum. New York, USA, 21st-24th April.
2016     Panel: Discussion on Reflective Practice. New York University
International Drama in Education Forum. New York, USA, 21st-24th April.
2015    Chapter: Teaching in role: just another name is never enough.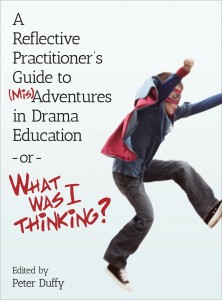 In P. Duffy (Ed.), A Reflective Practitioner's Guide to (Mis)Adventures in Drama Education or What Was I Thinking? (pp. 43-58). Bristol UK/Chicago USA: Intellect.
2015    Paper:  Pragmatic paradox and internal coherence: embracing the logic of drama. 8th International Drama in Education Research Institute 'Open Culture in the Asian Century: Reimagining Drama Education'. Singapore, 30th June – 5th July.
2013    Masterclass Leader: AATE Conference, Washington D.C., USA
2011     Presenter: AATE Conference 2011, Chicago, USA
2010    Paper/Workshop Presenter: Process Drama – a portal to inclusion at International VSA Education Conference, Kennedy Center, Washington D.C., USA
2010    Article: Drama is not a dirty word: past achievements, present concerns, alternative futures in Research in Drama Education 15 (4)
2008    Paper/Workshop Presenters: National Drama International Conference 2008 Drama – mind, body & spirit, Durham University, UK
2007    Article: Processing Post-Colonialism, in Caribbean Quarterly 53 (1&2)
2006:   Paper: Using drama to produce multifaceted art experiences from notionally mono-cultural material, at IDIERI 5, Kingston, Jamaica
2005    Article: Drama on the run – mapping the practice of process drama in Journal of Aesthetic Education 39 (4)
Click to read Drama on the Run Abstract  Click for some of Pamela's  practical drama resources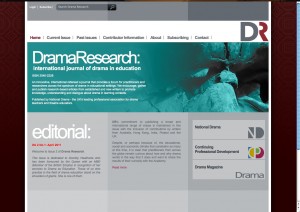 Pamela is also Co-Editor of Drama Research: international journal of drama in education
Visit Drama Research