Consultancy, INSET & CPD
National
Pamela is in demand as a CPD and INSET leader who provides high-quality workshops and

programmes for individual schools, local authorities and educational organisations across the UK and overseas. Having recently concluded a ten-year partnership with North Runnymede  Learning Partnership, she is now beginning to plan a collaboration, on behalf of the Arts Society, West Wycombe with Discover Bucks Museum in Aylesbury.
Bespoke programmes and courses are designed to meet colleagues' particular needs in developing the knowledge, skills and confidence to use whole class drama for learning in and across the curriculum to enhance creativity and raise achievement. Practical work is underpinned by her deep knowledge of how and why drama enables learning and Pamela supports this with a wide range of teaching and planning materials.
Lately, she has worked in the UK with schools and teachers in Berkshire; Buckinghamshire; London Boroughs of Bromley, Havering and Kingston; Lincolnshire; Norfolk; Oxfordshire and Surrey as well as in Sandes, Norway.
Workshop topics recently covered include:
Using drama to promote writing
Planning process drama successfully
Drama and history
Drama as a cross-curricular pedagogy
Moving beyond 'hot-seating' – linking strategies to create whole class drama
Strengthening social cohesion through drama
Integrating the arts through drama
If you would like Pamela to work with your school, local authority or institution, please email: pb@pamelabowell.org
"Thank you for fabulous twilight sessions!" – Primary Deputy Head, Bucks.
International
Beyond the UK, Pamela has a long and active international dimension to her work, including residencies, courses, conferences, research and collaborative projects, in Europe, North America and the Caribbean. She is committed to IDEA (International Drama/Theatre Education Association) and has also served on the Executive Committee of AITA/IATA (International Amateur Theatre Association), chairing the Standing Committee for Children and Youth.
Turkey
Pamela was awarded with Honorary Life Membership of the Turkish drama teachers' association, Society for Contemporary Drama.  She received this award in Ankara in recognition of her work there in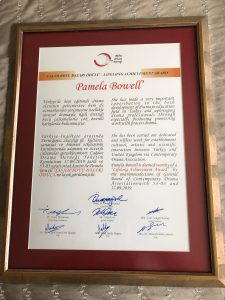 supporting the development of drama in Turkish schools. In 2019 she was honoured to receive a lifelong achievement award from the Creative Drama Association of Turkey.She remains committed to the support of this vibrant and enthusiastic community of drama teachers.
Palestine
Pamela is committed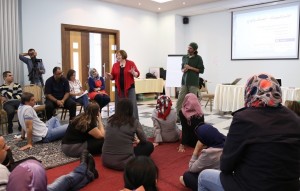 to the support of drama teachers in Palestine through the Qattan Centre for Educational Research and Development based in Ramallah.